Review: Innisfree No Sebum Mineral Powder
8:22 PM
Another makeup review! Review posts tend to be the most favored, so why not another one of these posts :D Today i'll be talking about one of my favorite Korean Beauty brands, Innisfree.


Product Description and Claims:
The Innisfree No-Sebum mineral powder comes in two forms,
loose
powder and
pact
powder. The loose powder is the understandably the more popular one, which is why I bought it and will be reviewing it instead of the compact powder.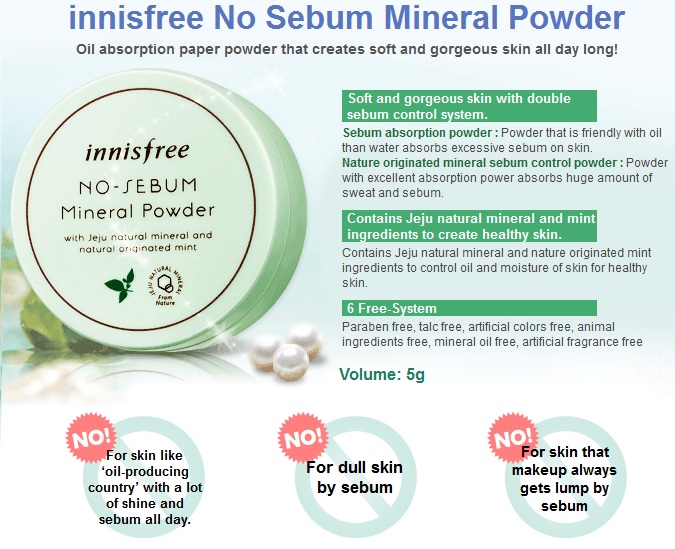 Ingredients:
The link to the ingredients on CosDNA is
here
. All of the ingredients are green, and only one is yellow, so I can confidently say that this product is SUPER safe! If you haven't heard of this brand, Innisfree is a brand that uses for the most part natural ingredients from Jeju island.
How To Use:
Apply some of the powder on the T-Zone of the face, or any other oily areas, using either the puff it comes with or a face brush.
This item isn't only great to control sebum around the face, but has many other amazing uses! Such as:
I personally agree with all these uses, even though some just mean the same thing :P As for using it as a dry shampoo, it actually works! This was actually mentioned on
"Yoo Jaesuk's I Am A Man"
and how girls use it to control the oil in their hair to avoid having to wash their hair :P It was funny how surprised all the boys were, to them its as if girls perform some kind of black magic ahahahaha
Packaging:
Sorry for the dirtiness of the item! I've had this for a little more than half a month, so yeah......
Front and back. As you can see, the information on the back is all in Korean. Which is why you can read this post for all the info :P
The little package comes with a puff/applicator, but I don't use because it gets dirty easily (as you can see on the photos) and is hard to clean.
Tip: Do not get rid of the puff! Even if you don't use it, it sort of acts like a lid that prevents the loose powder from flying everywhere while it's on your bag, so keep it inside the package!
There is a little plastic cover with little wholes, so it sort of works like a salt dispenser :P
Consistency:
It is powdery and soft, reminds me of baby powder :D It's white, however it turns translucent once it comes in contact with the skin, so don't worry because it doesn't leave a white cast.
Scent:
Minty scent, very pleasant. It's fresh and herbal-ish, I personally love it but it can be unpleasant to some people.
Performance:
I love it! It's currently my holy-grail finishing powder. It leaves my face matte but still glowy, and definitely controls the oiliness throughout the whole day. Also works excellent if you want to apply it on your hair overnight, to control the dirt and oiliness that would accumulate.
Definitely recommend it!
This item was actually mentioned on Get It Beauty, if anyone wants to know :D
You can buy this product in most asian beauty online retailers.
Pros:
-Controls sebum, and therefore oiliness
-Long-lasting
-Nice scent
-Even though it looks small, has a lot of product
-Doesn't leave white cast
-Works as dry shampoo
-Affordable
Cons:
-Since its loose powder, it can get very messy.
Score
10/10